Held every 2 years, the NADN Advanced Training Retreat has become the most anticipated professional and social event on the calendar for experienced mediators across America. Over 3 days, the Retreat brings together renowned thought-leaders and some of the finest ADR trainers in the world to share their knowledge and experience with Academy Members. Spouses & family guests are very welcome to attend social events.
Delayed a year due to the COVID-19 pandemic, NADN returned to an in-person Training Retreat for 2022. Our venue was the beautiful Four Seasons Hotel in Atlanta, GA.
Our faculty for 2022 included:
Lee Jay Berman (American Institute of Mediation)
Nina Meierding (Negotiation & Mediation Training Services)
Kenneth Feinberg, Washington, D.C.
Susan Guthrie (LearnToMediateOnline.com)
Dr. Debra Dupree, San Diego, CA
Julie Okada (Triad Consulting Group)
Jeff Kichaven, Los Angeles, CA
Sam Ardery, Bloomington, IN
Please click the brochure image to view/download the full brochure, including agenda course descriptions. All first-time attendees of the Retreat were recognized as Diplomate Members on completion of this course.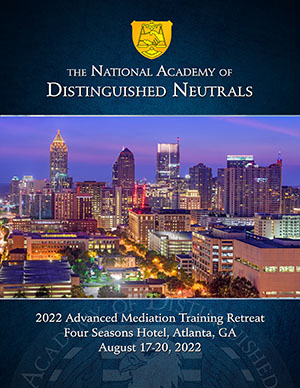 Photos from our 2022 Atlanta Retreat
2022 Attendee Testimonials
"Congratulations to your team on putting on a fantastic Retreat. The classes were first-rate, the speakers were exceptional and the connections made were great!"
Jim Gibbs, Tulsa, OK
"Truly excellent. I learned so much and am already figuring out how to incorporate these new ideas into my ADR practice!"
Donna Greenspan Solomon, Fort Lauderdale, FL
"Thank you for a great Retreat! Everything was so well organized and the presenters were top-notch! Count me in for Hawaii 2024"
Valerie Kiffin Lewis, Fort Lauderdale, FL
"An outstanding education program, one of the very few that could be called truly advanced. The quality of the speakers was extraordinary! Congratulation to the NADN team, highly recommended to my peers."
Francis Carter, Miami, FL
"A highlight of the year - the Retreat is consistently excellent. The lessons provided are not only very helpful but in many ways, transformative. The energy I get from attending theses seminars is unmatched by any other course!"
Roger Kramer, Mendota Heights, MN
"This is one of the best educational events I've attended in my career! And I heard the same over and over again from others in attendance. The caliber of the speakers, the ease and comfort of the facililty, the organization of the event. Congratulations to the entire NADN team!"
Leslie Langbein, Miami Lakes, FL
"A dozen years and still going strong! NADN Retreats are STILL the best continuing education experience for working neutrals - bar none."
John Freud, Miami, FL
"In 40 years as a judge and private judge, I have had a wide range of professional education experiences. The NADN conference was the pinnacle of those events. Superb presenters, the best of our peers as fellow attendees, and extraordinary facilities make for an invigorating and compelling experience. And yes, even old dogs can learn new tricks!"
Hon. Frank Ochoa, Santa Barbara, CA
"I had high expectations, and my expectations were FAR exceeded. Kudos to you and your staff!"
Eric Luckman, DelRay Beach, FL
"This seminar was outstanding! The speakers and information provided were exceptional and designed for mediators who want to elevate their practice to the next level. Great education, great venue and great time socializing with fellow mediators. I will definitely be back in 2024!"
Penny Schmidt, Jacksonville, FL
"Someone described the Retreat as 'drinking from a firehose', and I agree. The wealth of helpful lessons and exercises were plentiful and meaningful. Meeting colleagues from across North America was great fun and so informative..."
Stephen Snead, Springfield, MO
"Excellent course, with the top speakers in the industry gave us proven, useful informative presentations. Thank you NADN for a great conference!"
Jack Townsend, Tampa, FL
"NADN did a marvelous job of putting together and executing an outstanding conference. The programs were different from what's available elsewhere - sessions were thought-provoking and inspring introspection. The accomodations were of the highest quality and our fellow colleagues were engaging. These programs cause me to rethink my approaches to common mediation issues, and I know will make me a better mediator."
Hon. Irma Raker, Bethesda, MD
"NADN puts on a comprehensive program, offering practical techniques for highly experienced master mediators. The attention to logistical details shows the commitment of NADN to the comfort and enjoyment of all members."
Robert Creo, Philadelphia, PA
"After two years' hiatus without in person learning, the Atlanta Retreat was just what the doctor ordered! Four days to renew acquaintances and establish new connections with some of the leading neutrals in the country — what a breath of fresh air! The Retreat always provides a provocative, thought-provoking environment for dispute resolution professionals to exchange ideas and renew our spirits. The faculty was superb, as always, and the NADN once again provided an opportunity to renew our commitment to mediation as the best alternative to resolving conflict"
Jay Hunston, Jr., Stuart, FL
"The Atlanta Retreat was my fifth one and I ALWAYS leave energized with new ideas to push my game to a higher level."
Michael Bishop, Indianapolis, IN
"Not a single moment is wasted at this conference. Great venue and accomodations, the highest quality speakers and thought-provoking discussions. Want to stretch your brain, master new techniques, and build up your practice? This one is worth you time."
Phyllis Phillips, Williston, VT
"A million thanks in putting together a Retreat that was nothing less than spectacular in my view. I must tell you that I have not attended any other conference or training where I sat on the edge of my seat and hung on every word of the impressive panel of speakers. It was honestly so informative and entertaining, and I loved meeting and learning from so many impressive colleagues and participants."
Marney Lutz, Calgary, AB
"With such a hectic schedule, I was hesitant to spend the time and money to attend another potentially boring conference. But BOY, was I ever blown away with the Atlanta Retreat! Even though 2 of the speakers had to present via Zoom, my eyes and ears were glued to the screen, as they were not only informative but also animated and engaging. This Retreat was in fact the very best education conference I have ever attended, with each speaker as compelling as the one before. Can't wait for 2024!"
Hon. Billie Colombaro, New York, NY
"The Atlanta NADN Retreat was my first and it exceeded my expectations! I enjoyed the presentations by speakers such as Nina Meierding and Ken Feinberg and of course learned so much from comparing notes with colleagues during class exercises. I look forward to the next event!"
Margarita Echevarria, New York, NY
"The Atlanta Retreat was by FAR the best ADR seminar I have ever attended."
Bert King, Gray, GA
"I thought the Retreat was truly outstanding; indeed it was the best and most useful CLE/CME conference I've ever attended.I also met a lot of great people that I will stay in touch with!"
Joseph Varner, Tampa, FL
"Congratulations to you, Kathy and the team for an outstanding Retreat. It was extremely well-run professionally, and the topics and speakers were outstanding. I greatly expanded my mediator toolkit, which is something that rarely happens! The hotel was marvelous, as was the city. Thanks for making this a great experience!"
Steven Gaon, Ottawa, ON
"I wanted you to know that the Retreat was fabulous and extremely informative. Even though this was my first Retreat, NADN made me feel like part of the group - you and your crew ROCK!"
Raynard Struck, Albuquerque, NM
"I thought the Retreat was amazing and I learned a LOT, as well as meeting great people from around N. America with diverse backgrounds. I didn't know quite what to expect going in, but I was quite literally 'blown away' by the speakers and the content. Thank you so much for putting it all together, and I very much look forward to the next one!"
David Kitchen, Calgary, AB
"A most informative and engaging Retreat. If you want to grow in all aspects of your ADR life - this learning event is for you."
Anthony Garcia, Tampa, FL
"The benefit of the Retreat is that it provides a true one-stop-shop for your educational development. Thank you for such an informative and pleasureable event!"
Valerie Kiffin Lewis, Plantation, FL
"Far and away the BEST substantive conference on the art and practice of mediation."
Ken Kendrick, Atlanta, GA
"An elite group of speakers, delivering invaluable and practice content."
John Brookman, Fort Worth, TX
"I highly recommend attending the NADN training retreats. The program was one of the best mediation trainings I have ever attended. The faculty were stellar – they were excellent communicators and each delivered very interactive and meaningful sessions. I left with valuable insights and hands-on tips and take-aways that I could immediately adopt into my mediation practice. It was such a pleasure being a student again!"
Theo Cheng, Princeton Junction, NJ
"Some of the best speakers of any ADR program, anywhere."
Robert Bartkus, Morristown, NJ
"A wonderful in-depth opportunity to re-examine and reasses the methodologies and disciplines necessary for effective mediation. First rate."
James Giles, Philadelphia, PA
"An unrivalled opportunity to learn from the best practicing ADR practitioners in the world, and share experiences, thoughts and tactics."
Michael Jassak, Oak Creek, WI